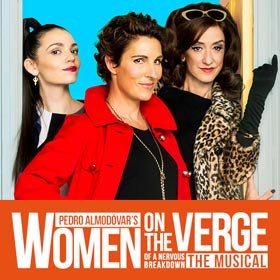 Call :phone to book directly from the theatre or Subscribe
Booking from
Wednesday, 17 December 2014
Booking until
Saturday, 23 May 2015
Running time
2 hours 30 minutes
Performance Times
| Mon | Tue | Wed | Thu | Fri | Sat | Sun |
| --- | --- | --- | --- | --- | --- | --- |
| | | 14:30 | | | 14:30 | |
| 19:30 | 19:30 | 19:30 | 19:30 | 19:30 | 19:30 | |
Women on the Verge of a Nervous Breakdown
Fancy a giggle... a really long, hilarious and satisfying giggle? Then this brilliant play is for you, staring the brilliant Olivier Award-winning TV and stage actress Tamsin Greig of Episodes and Green Wing fame. It's a snappy, smart musical comedy driven along beautifully by a live on-stage band with music by David Yazbek and a very funny book by Jeffrey Lane.
What's the story? The musical whisks us to the sophisticated streets of Madrid where Pepa's entire world has started to unravel. It's a city pulsing with art and passion but her life is in tatters. Her lover leaves her, which is bad enough. But then she runs into his wife, son and new girlfriend. Can things possibly get any worse? As it turns out, yes they can. Oh dear.
At the same time Pepa's best friend is busy sorting out her own disastrous love life, which is also at crisis point... but what can she expect when she has teamed up with a suspected criminal? The only sane person seems to be Pepa's taxi driver. Directed by Tony Award-winning Bartlett Sher, it's a hugely entertaining show celebrating women centre stage. What a hoot!